From Vatican City to Kumortuli and adjoining iconic red light district Sonagachhi, we covered it all in a single tour. For the first time ever, we did an all-nighter. We started driving at about 11.30 at night and our first stop was Chetla Agrani.
Chetla Agrani
Their huge pandal was created with structures and figures made of dried banana leaves. Apparently, they had worked for 2 years to execute this pandal.
Sree Bhumi Durga Puja
Sree Bhumi Durga Puja was much in the news for recreating Vatican as their pandal. The excitement among visitors was palpable here. These two spots were at south and north parts of Kolkata.
Park Street, Kolkata
While driving, we fortunately passed the famous Park Street that was done with gorgeous gates and danglers made of bulbs.
Nalin Sarkar Street
We also watched a beautiful idol at Nalin Sarkar Street where Durga was like just another Indian mother visiting with children.
78 Palli, Alipore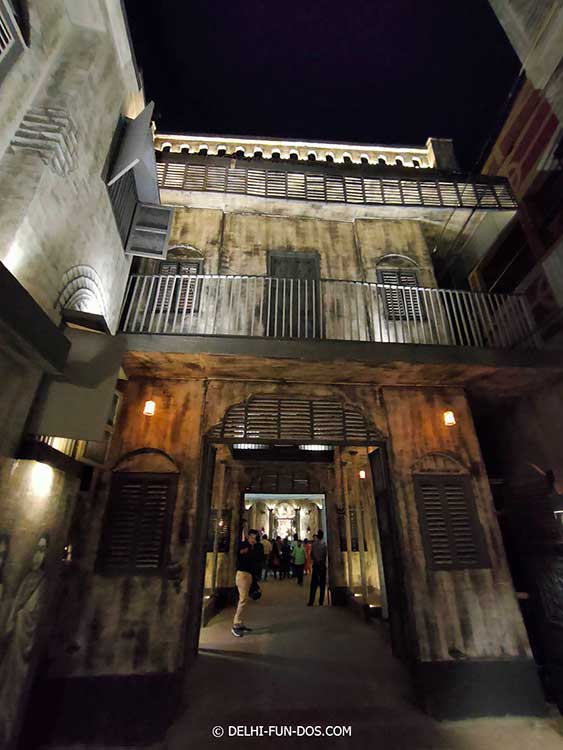 They had meticulously recreated Kumortuli, the clay artisans' colony where all idols are made. The artisans here had a difficult life with business as well as raw material becoming scarce.
Sonagachhi, the red light area was also a tale of sadness. Choukath had used a gray-black theme to represent the gloom.  They created faux structures to create these very old areas of Kolkata. The adjoining areas were also duly painted to blend into the theme. Projectors played videos of courtesans entertaining their clients.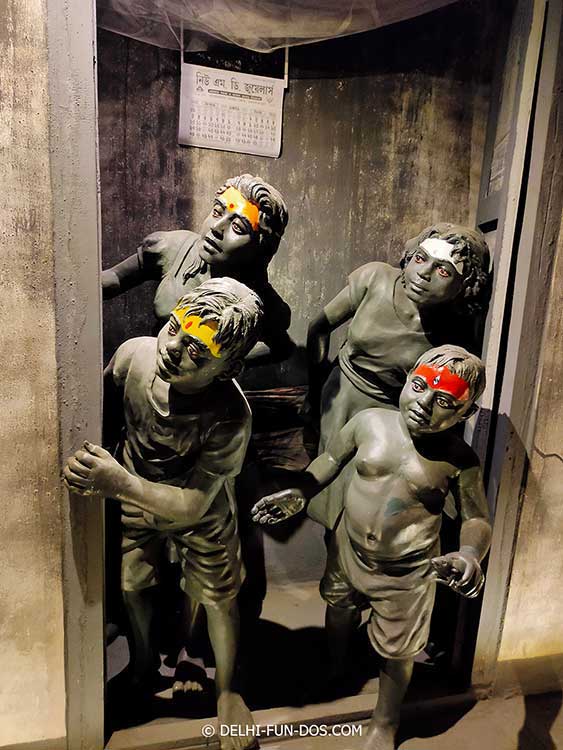 Goddess Durga's children were these bunch of fibre glass statues peeking out of a door to have a look at the forbidden world. We were awestruck and touched with the finesse as well as the sensitivity of the theme.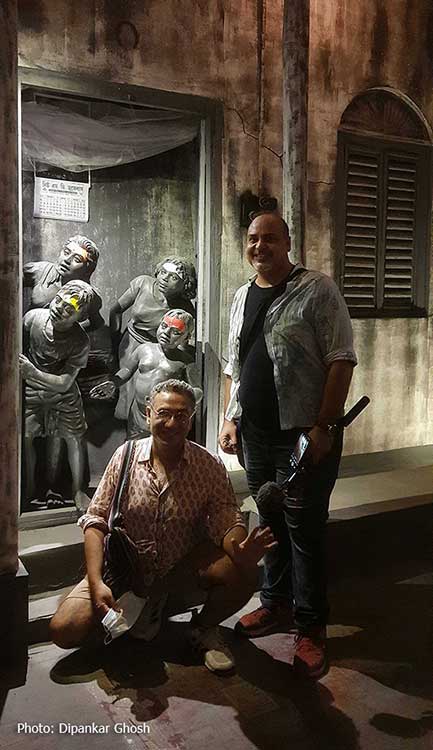 We came back home at about 6 in the morning happy that we had finally found a Durga Puja that aptly represented the inclusive spirit that was recognised by UNESCO while listing Durga Puja as an Intangible Cultural Heritage of Humankind.
PIN FOR LATER READ