If you are a wildlife enthusiast, you may be aware of Sariska in the Alwar district of Rajasthan. Sariska Tiger Reserve is merely 3 hour drive from Delhi and given the proximity to NCR, it hardly feels like Rajasthan. We left after an early breakfast and was having lunch at our resort in Sariska. Yes, it was that simple and reminded us of Neemrana, another trip to Alwar.
Alwar
The chief purpose of this trip was to visit Sariska Tiger Reserve. Given that our jungle safari was scheduled for the next morning, we had the afternoon and evening on hand. We, therefore, decided to explore the surroundings.
PIN IT FOR LATER READ
On asking around, we came to know that Alwar town was about half an hour's drive from our resort. That was good news and we just hopped back to our car, this time for Alwar City!
History of Alwar
You may be surprised to know that Alwar finds mention in Vedic texts when it was known as Salwa. In medieval times, Alwar came under the rule of Rajputs. The Alwar dynasty was established in the 18th century as the princely state of Alwar. Alwar was integrated into the Indian dominion after India's independence. Knowing this, we were even more excited.

What to do in Alwar
By the time we reached Alwar, it was already late afternoon. We targeted the Alwar City Palace, a must-visit here.
When we reached the palace, we were a little underwhelmed. While the palace looked majestic from the outside, it was deserted. We parked, all along looking for some sign of life when we spotted a tallish young chappie, Pushpendra. He volunteered to show us around the City Palace and the museum. Given that we were on limited time, the informal guided tour was very helpful.
The Alwar Palace
The Alwar Palace was built in the 18th century. It was a typical Rajasthani structure that was a fusion of Rajput and Mughal styles. A central lake was created perhaps to tackle the strong summer in this part of India. The palace had arches and domes and balconies with latticework. This provided privacy as well as aided ventilation. Most of the floors of the City Palace were converted into the Alwar Museum. We saw pieces of armour, Rajasthani furniture, utensils, and manuscripts in the museum.
The Bala Qila Fort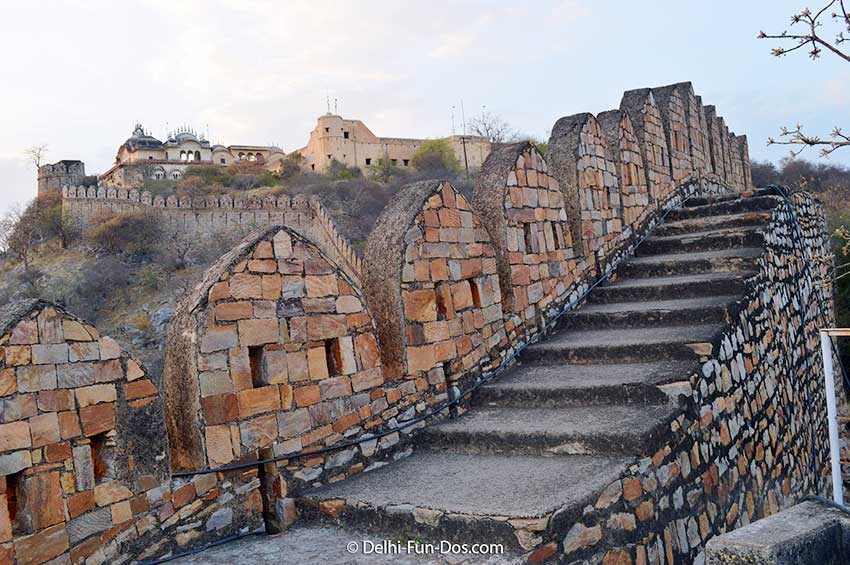 The Bala Qila Fort not far from here looked interesting from the outside. One needs police permission to visit the Bala Qila Fort and that is not very difficult. But it was late by the time we were done with the City Palace so we left Bala Qila Fort for the next time.
Moti Doongri Sankatmochan Temple and Mazhar
If you drive up the Moti Doongri hill, you have a unique experience. Atop the hill, there is a Sankatmochan Temple and a dargah in the honour of Sayed Baba on the same structure. Bhajans and azaans are heard almost simultaneously from here. The common offerings are used for the maintenance of both the shrines. Moreover, a single caretaker is responsible for the Mandir and the Mazhar. We were humbled seeing another instance of the happy co-existence of Hindus and Muslims over centuries in India.
Siliserh Lake
This beautiful lake is shared by both Sariska and Alwar. The view of the lake is very picturesque and the mountains provide the perfect backdrop. Boating facilities are also available. You can easily spend couple of hours at this lake front. There is a refreshment centre run by Rajasthan Tourism Department Corporation or RTDC. We had tea and sandwiches here.
We took a round of the markets of Alwar in the evening. It was bustling with life. We were enticed by all the carts selling savoury snack mixtures. These freshly prepared snacks were very delectable. These would fall under the healthy category of Indian snacks that are great with tea or drinks.
Sariska Tiger Reserve
Given the chirping of birds around our resort, waking up early the next morning was not difficult. We went for our safari bright and fresh. We parked at the designated spot before the Sariska Reserve Forest Gate and went inside. After buying safari tickets, we were directed to a canter bus. These are high-open vehicles that can hold about 20 visitors. Canters are perfect for jungle safaris. The canter got filled and we were on our way inside the forest.
Sariska is home to Bengal tigers. And no, we did not sight one. In fact, Sariska was a gaming reserve by the royal family of Alwar. The major tiger population was annihilated by them. For a brief period, there was no evidence of the tiger in Sariska. However, the Government of Rajasthan tried to relocate tigers from other parts of India to Sariska. As a result thereof, there are some tigers now in this forest.
In addition to the Bengal tiger, Sariska is home to a variety of deer, jackals, hyenas, primates, and birds. We saw some of them. What enchanted us was the rich natural beauty. Sariska is part of the rustic Aravalli Mountains. The flora here is shades of green punctuated with some brown. The richness of the forest is a treat for sore city-weary eyes.
Although we did not spot a tiger. our jungle safari was worth it.
How to reach Sariska
There are frequent buses and trains from Delhi and Jaipur that takes about 3 hours. The nearest airport is at Delhi. You can also drive or hire a cab from Delhi NCR or Jaipur.
Which sweet is famous in Alwar?
Alwar is famous for Kalakand, a variety of sweet milk cakes. We tasted them, and they melted in our mouths. Moreover, these were mildly sweet, just the way we like our desserts. Needless to say, we packed Kalakand for home too. We got our milk cake packed from Baba Thakur Das & Sons shop.
What to shop
Colourful lacquer bangles from Alwar are well-known. These are widely available in local markets. You can opt for traditional Rajasthani designs or contemporary styles.
We also loved the snacks and mixtures here that were available at shops as well as on carts and got that packed as well. The best place to buy namkeen is a cart in the market called Rameshwar Namkeen Wala. We got a combination of assorted mixtures from this cart. This was absolutely divine.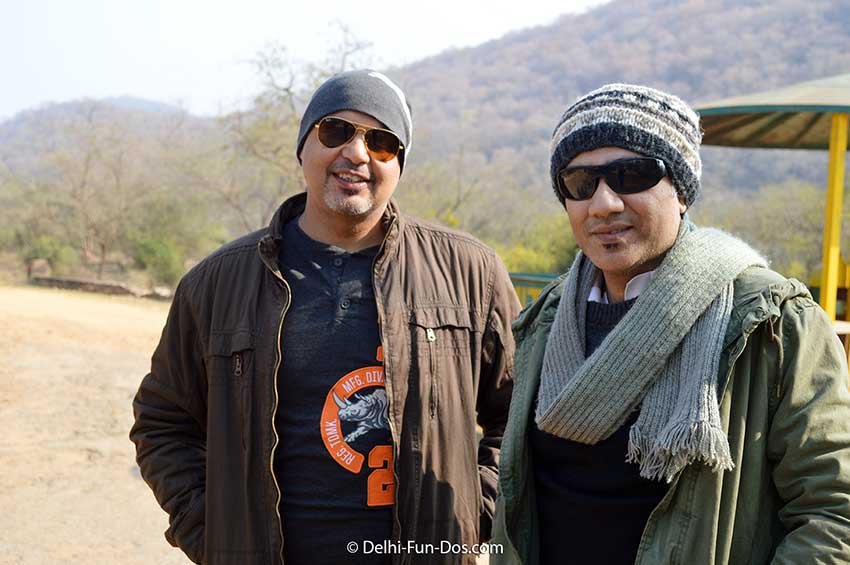 Our Alwar – Sariska trip was short and sweet. Many of our friends had suggested that we might get bored at Sariska. But it was nothing like that. We had a lot of fun during this great weekend road trip from Delhi to Sariska. After all, we are called Delhi FUN Dos not for nothing.