Theatre groups in Kolkata are mostly passion-driven movements. If you are visiting Kolkata, you should consider taking out a couple of hours to watch a play at any of the many auditoriums around the city. You would be introduced to a whole new form of enjoyment. Additionally, like a true traveller, you would feel the pulse of the city.
Culture trip in Kolkata
Just before watching the theatre Lok Katha, we came to know that Kolkata has made it to a popular list of top food destinations around the globe. Food is one of the popular preoccupations of Bengali. But Kolkata is also the cultural capital of India. Therefore it is no surprise that another preoccupation of people from Kolkata is theatre.
PIN IT FOR LATER READ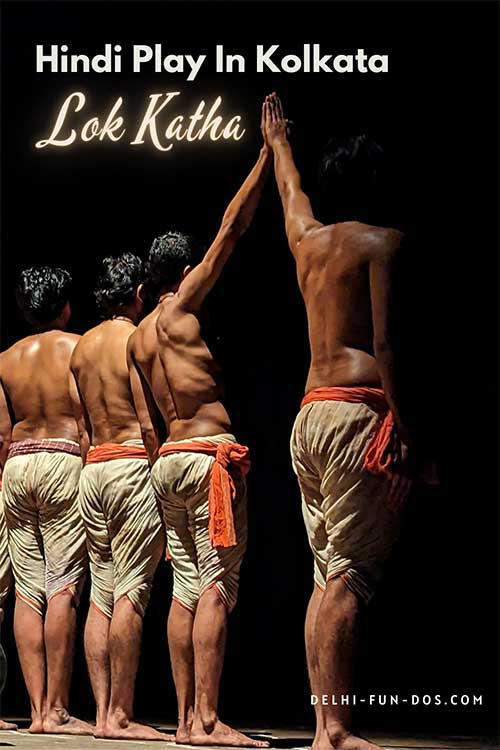 Theatre in Kolkata was a medium of protest against British rule in the mid-1800s. Post-independence, the group theatre movement in Kolkata flourished with a new narrative. It was a medium of protest and propaganda for social and economic issues. Happy to note that this trend continues.
Lok Katha (The Village Story) by Ranga Karmee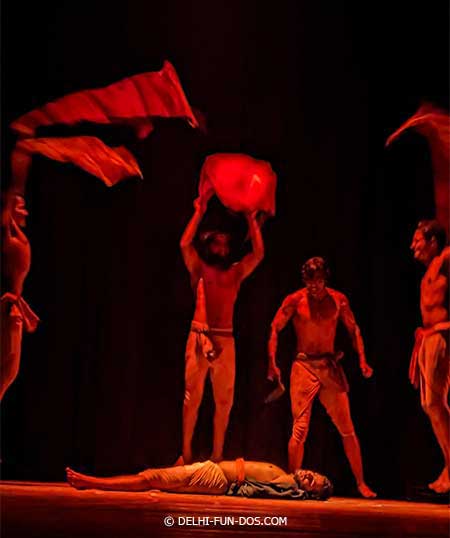 We were in Kolkata enjoying the very pleasant winter. During Bharat Rang Mahotsav, we watched many theatrical productions from Kolkata. Yet we were sure watching a play in Kolkata – the seat of the triumph of Bengali theatre would be a worthwhile experience.
It was around this time, we came to know that Lok Katha, a play IN HINDI, by the veteran theatre group Rangakarmee in Kolkata was being staged after decades.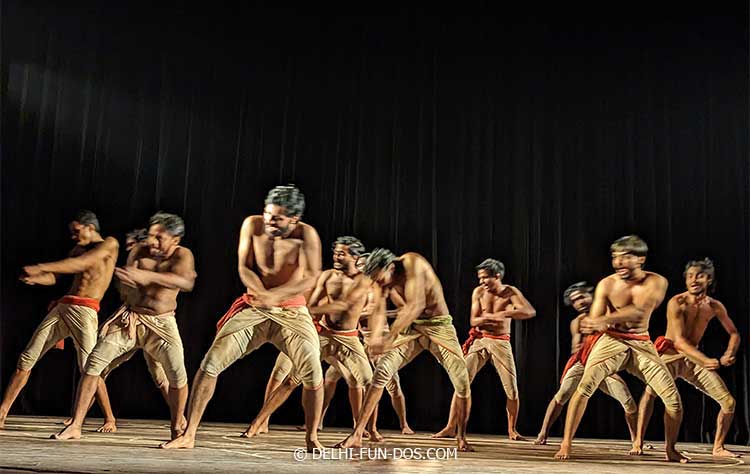 Rangakarmee was founded 47 years ago by thespian Usha Ganguli for presenting Hindi and Bengali theatre to the audience in India and overseas. Ganguli was the soul behind Rangakarmee and an inspiration to many theatre workers across the globe. While she passed away in the year 2020, Rangakarmee evidently has been following her ideology.
Lok Katha is based on a Marathi play that was adapted in Hindi by Usha Ganguli. It was directed by Usha Ganguli and was first staged by Ranga Karmee 36 years ago. It was a story of the struggle that rural India faced, and we, in cities, were somewhat inert. Caste oppression, women's safety, lack of employment, the list was long and sordid.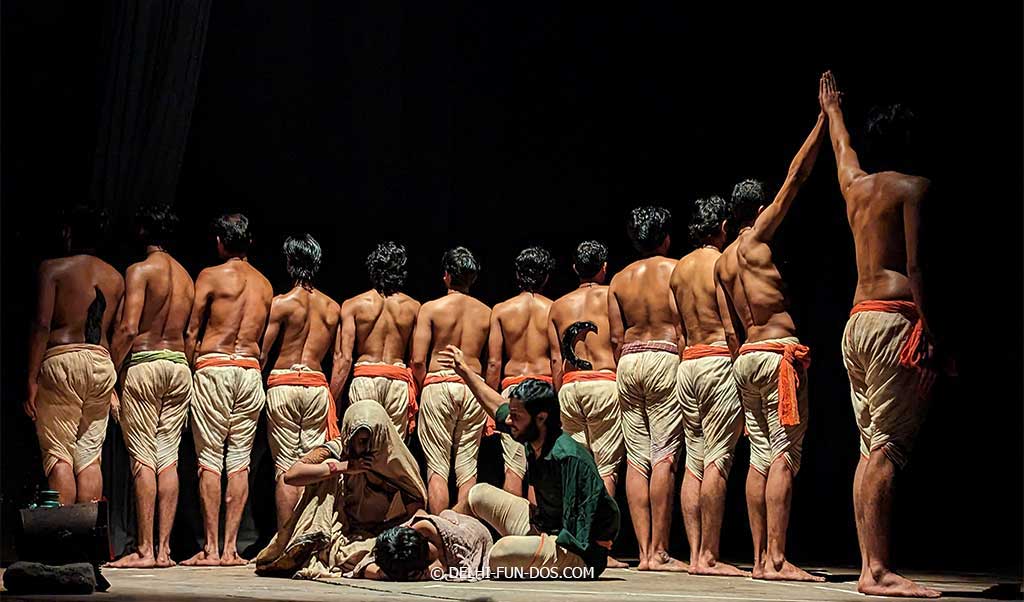 The presentation was majorly based on symbolism. There was no set and minimal use of props. Any backdrop, such as a room, or a field, was created by a host of actors making formations like a wall with a door, or an outdoor area with trees. The line of men holding hands to create houses was somewhat representative of the frugality and helplessness of our brethren in rural India. As if they could not afford the luxury of sets and were constrained to follow the dictums of their sad situation. It was goosebumps.
The sharp music was the other element that penetrated the mind of the audience. Simple lines, sung in rich open voices, either solo or group, hit the proverbial nail on its head. The songs were like tales relating stories of rural India, heartfelt yet resilient.
The cast was long. Yet every artist was impeccable in their roles, however big or small. Precision was the key and there was no glitch. One could see the extensive rehearsal that would have been necessary to bring forth a perfect production like this. Special mention for Shubham. In multiple roles of Jagna / narrator/ villager as well as solo singer, he was a one-man show.
The play left the audience with some questions. Given that the auditorium was pin-drop silent at the climax, it was evident that everyone watching the play was pensive. Some were in tears.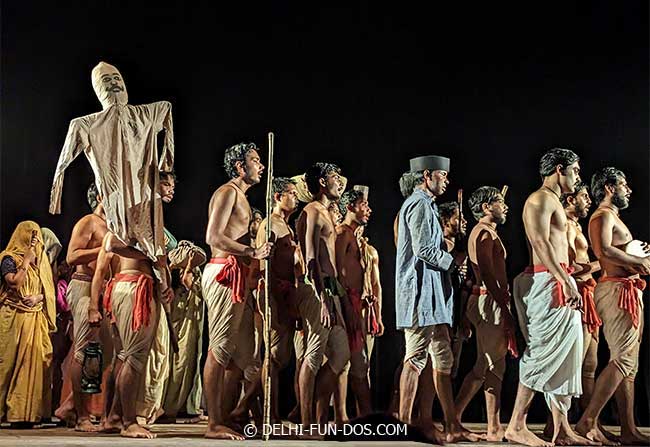 In all honesty, the issues of Lok Katha were not relatable to us. Yet, it made us aware that there was a larger world out there that we were not familiar with. It pushed us out of our comfort zone even while we were sitting on cushy chairs in an auditorium. And that was what made this experience sort of travel within our travel.
What is disappointing is that 36 years have elapsed since Lok Katha was staged. Yet the play still remains relevant. The condition of our villages has not changed much. Time for all of us to introspect.
Auditorium – Academy of Fine Arts, Kolkata
The Academy of Fine Arts is one of the oldest fine arts societies in India. Fondly called "Academy", they routinely hold art exhibitions and also house a museum. They have a theatre hall as well which has hosted renowned thespians around the world. The lawns here are punctuated with modern sculptures and this area itself is worth a visit.
Nearby attractions to the Academy of Fine Arts
The Academy of Fine Arts is at the heart of Kolkata. You are within walking distance of attractions such as Victoria Memorial, Birla Planetarium, Maidan, and Indian Museum. You are also very near the Tibetan eatery – Hamro Momo. That is where we had our dinner after watching Lok Katha.
Lok Katha is a style of theatre that is somewhat not common in other parts of India. Ranga Karmee is performing many shows now. We hope they come to Delhi and other cities in India. If you are a theatre lover or a fan of performing arts, Lok Katha is a must-watch.