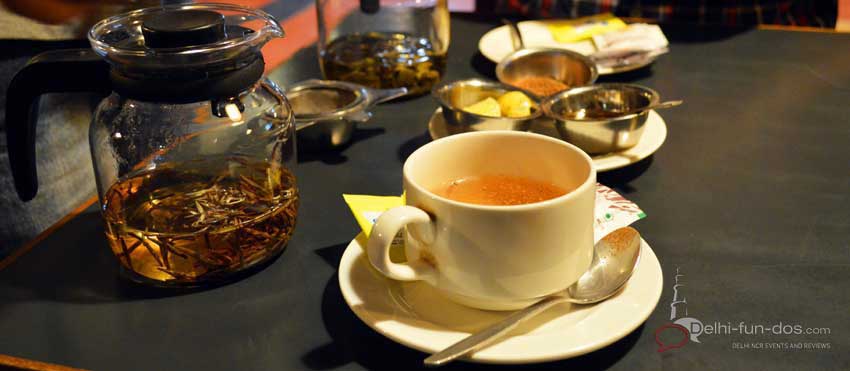 Venue: Malviya Nagar
Date: 19 July 2015
When Barista opened its first outlets in 2000, the average Indian was yet to be exposed to the fancy coffee shop culture. Within no time, the popularity of Barista spread like wild fire. Consequently, be it a student cutting into his pocket money or a group of ladies meeting for their kitty, Barista became one of the coolest places to be in. Since then, we have gone a long way. With Starbucks opening its outlets first in Mumbai (2012) and Delhi (2013), India has come of age in the coffee timeline.
Of late, the beverage scenario in Delhi is going through a change. With its health benefits and reasonable prices, tea is catching up as the go-to drink for many in the city. Consequently tea cafes in Delhi are seeing a steadily increasing flow of patrons. The entrepreneurs have gauged that after the coffee saturation, the next big thing is tea outlets. Consequently many more tea places are opening up in NCR (Cha Bar; Wagh Bakri Tea Lounge, Chai time etc.)
One such bright kid on the block is T'Pot Café in Malviya Nagar. It was started by three young men about two years now. They had recently invited us to review their fare. Their menu has multiple pages of range of tea, coffee, snacks and meal dishes. From the samplers that we had, the portion sizes for the food that they serve look promising and a dish may be good for two.
For main course we had Grenolata Basa Mash and Malaysian Laksa. The basa dish comprised fillets of fish on a spinach bed topped with mashed potatoes.
We also sampled a variety of teas – white tea, oolong tea and hibiscus tea. The white and oolong tea were served to us with honey, cinnamon powder and a dash of lime.
These teas are refreshing and can be an option for people looking for fancy varieties of tea / sugar free teas. In fact, these tea leaves are available for sale on their website www.tpot.in.
The décor is colourful and the place has a young feel to it. A word of caution, if you are driving, once you reach close to this Café, park anywhere you find space and feel that your vehicle is not going to be towed. Otherwise, just walk it.
T'Pot Cafe also has kiosks inside some office buildings at Gurgaon.