Harsil, one of the prettiest villages near Gangotri Mandir, Uttarakhand is derived from "Hari Shila" or the "Rock of Lord Hari or Vishnu". A 12-hour drive from Delhi on steep but mostly smooth roads via Rishikesh, Chamba, Uttarkashi took us entirely by surprise. A village market with brightly painted walls, and apple blossoms on roadsides made us wonder whether we are indeed in India or it is some village in the haloed Alps. This was Harsil, a village that we did not expect to be so pretty in a contemporary artful manner.
Where is Harsil?
Harsil is in Uttarkashi district in the state of Uttarakhand, India. Located in the lap of the Himalayas, on the banks of River Bhagirathi, it is one of the last habitable villages before Gangotri Temple. Bhagirathi is another name for River Ganga. Ganga is known as Bhagirathi in this region. Harsil was an important stop on the caravan trail that was used for trade and marriages between India and Tibet. Tibet influences are still clear in local villages.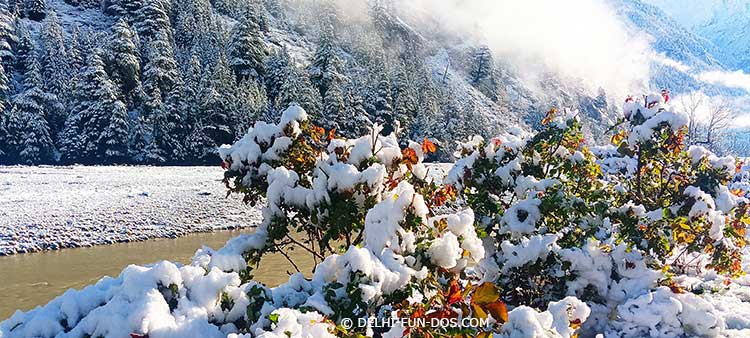 Given its proximity to Tibet, Harsil is also an army area, the base camp of Garhwal Scouts and Indo-Tibetan Border Police.
How to Reach Harsil
Drive from Delhi to Harsil – The distance from Delhi to Harsil is about 476 km and we drove up and down. Prakriti Retreat is another 3 km from Harsil. From the plains of Delhi to the mountains of Uttarakhand, we passed by River Ganga through Haridwar, Rishikesh, Narendranagar, the breathtakingly beautiful Chamba, and the busy Uttarkashi. The drive each way is a little more than 12 hours.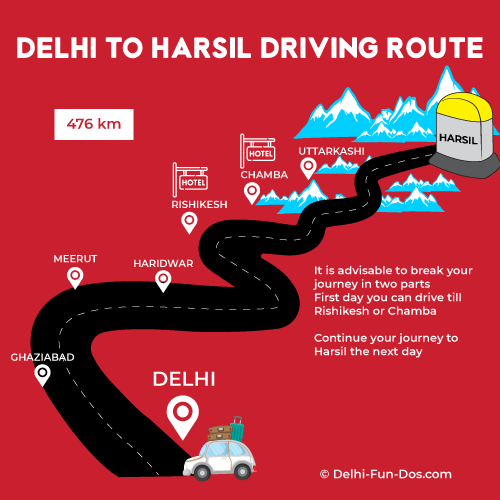 On the way up, we spent a night at Chamba. On the way back we drove all the way and it took us about 13 hours with occasional breaks to reach Delhi.
The nearest airport to Harsil – Jolly Grant Airport in Dehradun is where you fly in for Harsil. From here you can hire a taxi or a bus or a local cab up to Uttarkashi. From Uttarkashi, you need to change to another bus/taxi for Harsil.
Nearest railway station to Harsil – Haridwar is the nearest railway station. From here you can take a taxi or a bus/ shared taxi up to Uttarkashi and another transport to Harsil.
PIN IT FOR LATER READ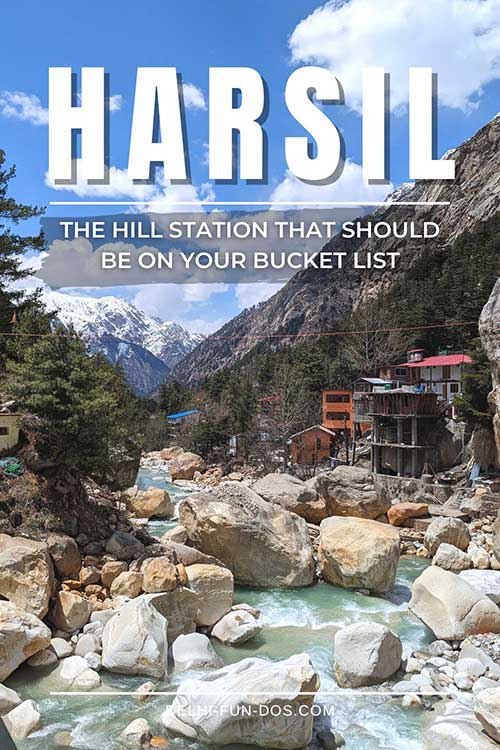 Things to Do in Harsil
Gangotri Temple
Akshay Tritiya is a very auspicious day in the Hindu calendar. The Char Dham Yatra, which closes on Deepawali, commences this day.
After a hiatus of about 6 months, the first shrine or Dham to open this year is the Gangotri Temple. Given the extreme cold in Gangotri, the temple is shut and the deity is carried down to Village Mukhba in Harsil, Uttarakhand for worship in winter. The deity is carried back to Gangotri Temple, Her chief abode, amidst a joyous procession on Akshay Tritiya.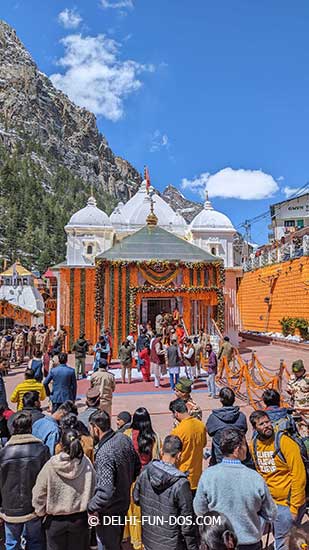 The gates or Kapat of Gangotri Temple are opened this day and the deity is reinstated in her shrine amidst fanfare and Indian Army band. Huge crowds from India and abroad assemble to witness the special event. We are fortunate to have been part of the spectacular celebrations this year.
Also Read: Lesser Known Temples Of Uttarakhand
Gartang Gali Trek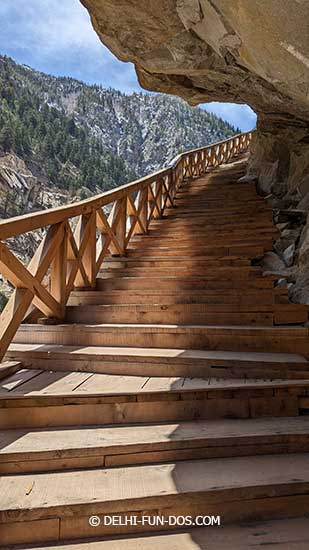 You could trek up for about an hour and see the famous wooden bridge that connected India to Tibet. The entry gate was about a 25-minute drive from Harsil market and the trek took us about 2 and a half hours to and fro. Nature is bountiful here so every corner against the mighty mountains and pine and other trees was a photo opp. Chameleons in different colours would often walk past you. But the wooden bridge with crossed railing was very different from what we expected. It felt like stairs to heaven. Reach early in the morning before the crowds arrive.
Kalp Kedar Temple, Harsil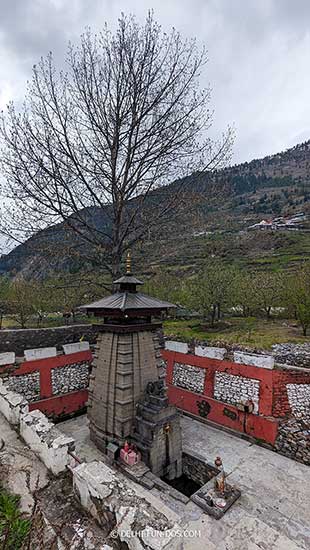 The unique setting of the ancient Kalp Kedar Temple, which is half-submerged in water, makes it a must-visit for anyone interested in the history and culture of the region. Located at Dharali, we took a long walk to this temple and had the best honey lemon tea at the Dharali market.
Mukhba Village, Harsil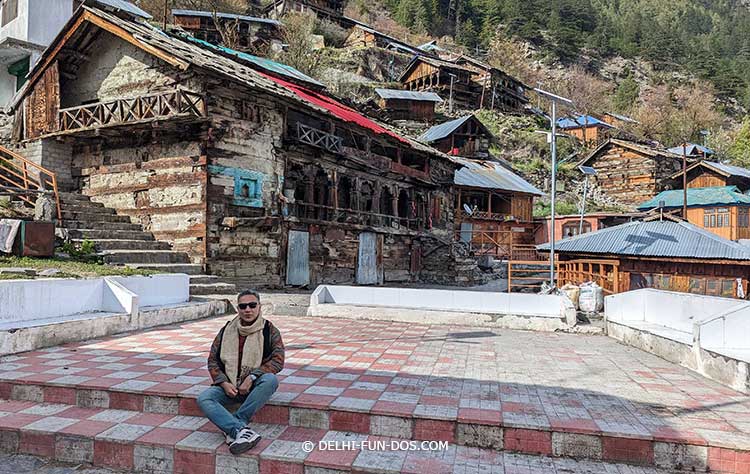 Harsil Valley is a cluster of some villages. Few places can match the breathtaking beauty of the Mukhba Village, where every turn offered a new vista of snow-capped mountains and lush green valleys. The Ganga Temple here is the winter residence of the Ganga deity after Gangotri Temple is shut after Deepawali. The ornamental wooden houses and temples look straight from a fairytale. The locals call Mukhba village as "Ganga Ka Maika".
Bagori Village, Harsil
Meet locals and see beautiful old abandoned houses at Bagori Village which is a treasure trove of natural beauty and surrounding culture. There is a Buddhist Stupa that indicates Tibetan habitation. Sheep rearing is a common livelihood and the natural wool from sheep is knitted or woven into sweaters, shawls, hats, caps, and so on.
Given its direction, Bagori village is very windy. The colourful Buddhist prayer flags would flutter and it was getting difficult to keep our caps in place. Many of the ornamental wooden houses were locked here and reminded us of the ghost villages of Shitlakhet, Uttarakhand.  We were told many villagers had winter houses in the warmer lower towns of Uttarkashi or Chamba. They would come back to their houses at Bagori once winter had ebbed and summer had set in.
Harsil Market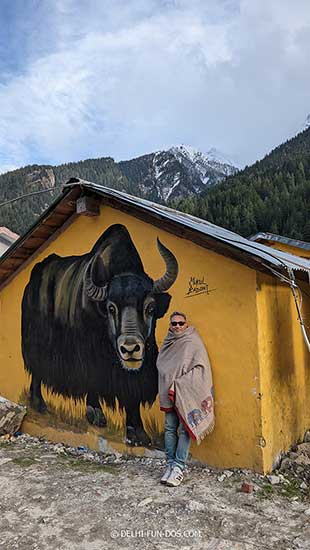 The Harsil Market gave wall art a new definition. From oversized faces to yaks and apples, local stories were skilfully painted on bright yellow backgrounds. Every day that we spent in Harsil, we would come to the market, walk around, take pictures from the parking lot, and have vegetable momos served with the most delicious peanut chutney. We ran into some DelhiFunDos fans and clicked selfies as well.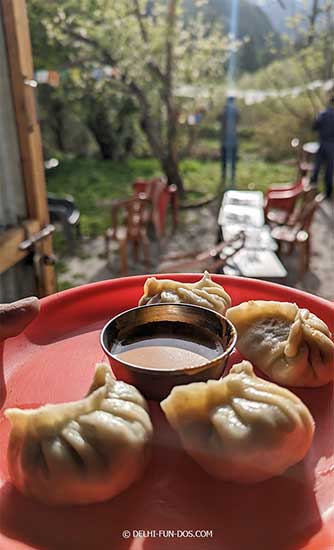 Stylish woollens knit in the nearby Bagori Village were being sold in some shops on the side. There was a spot near the parking lot that we located perchance. It looked like a poster for the most beautiful river flowing on the most shapely boulders; with pine trees all around.
Shopping at Harsil
Harsil is known for its beautiful hand-woven and hand-knitted items, which make great souvenirs and gifts for loved ones back home. These pieces are made out of natural (not synthetic) wool procured from sheep reared in the surrounding villages.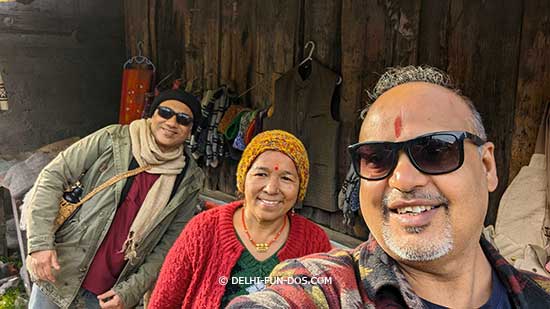 Slow Travel in Uttarakhand
If you are one for slow travel, Harsil is the perfect destination. Even though Harsil is enroute Char-Dham Yatra, the place has a peaceful vibe amidst dream weather. You can just walk down the mountain roads, sit by the side of Bhagirathi or admire the night sky while tugging at your blanket. Rejuvenate yourself, take it slow, and enjoy nature up and close at Harsil.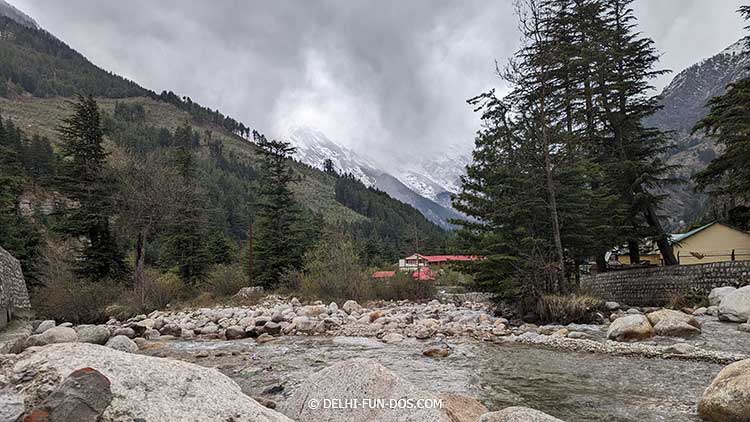 Apple Picking in Harsil
Harsil boasts of the best apples in India. Apple orchards punctuate Harsil and surrounding villages. We visited Harsil in end April and the apple trees were covered with pretty white and red blossoms. However, the apples are harvested when they ripen in October. The Harsil Apple Festival is organised around this time. If you are in Harsil around this time, you can enjoy the Apple Festival, a cultural spectacle of this region. You could also go for apple-picking excursions in various orchards.
How Many Days Do You Need for Harsil?
Harsil is located at an altitude. It takes a while to reach from any part of India. There is so much to do here. One needs at least 3 full days to tick off some of the activities. But if you want to take it slow, savour every moment, 4 days to a week is what you need to explore as well as enjoy Harsil Valley. Once you are back, it would be a purgative experience.
PIN IT FOR LATER READ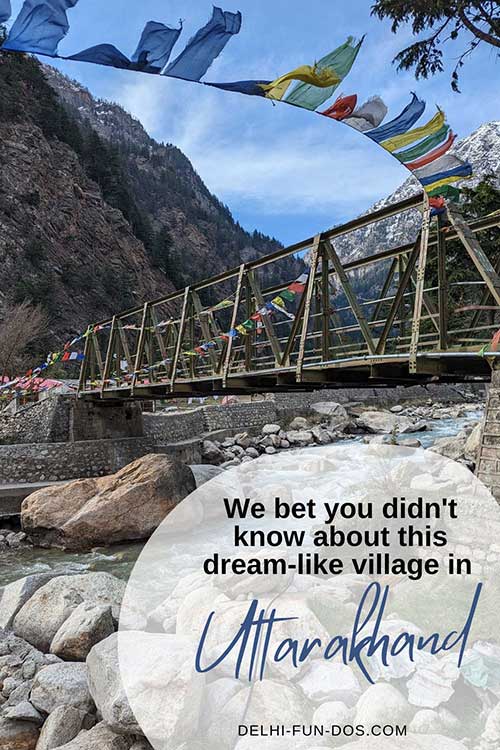 Where to Stay in Harsil
Harsil Market and nearby areas have some hotels, hostels, and backpacker lodging for trekkers.
Prakriti Retreat, Harsil – We stayed at the Prakriti Retreat right beside the long winding mountain road of Harsil. It is on the Ganga river-side with the snow-capped Himalayan range as the backdrop. We could eat all our meals looking at the beautiful gushing Ganga from our room window. In the evenings we would walk on the pebbled river banks. In monsoon, the Ganga here has a lot more water, and the banks are submerged. That would be another pretty sight!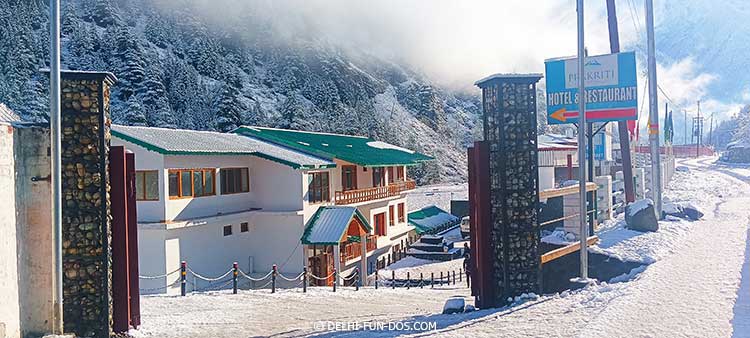 Talking about pretty sights, it snowed here the day we reached. After snowing Prakriti Retreat looked like a winter dreamland.
The rooms at Prakriti are cosy with all facilities such as a geyser, kettle, TV, intercom, etc. Some rooms have multiple beds and could accommodate a family. At our request, they provided a big room heater too. This was a lifesaver since it was cold after snowfall.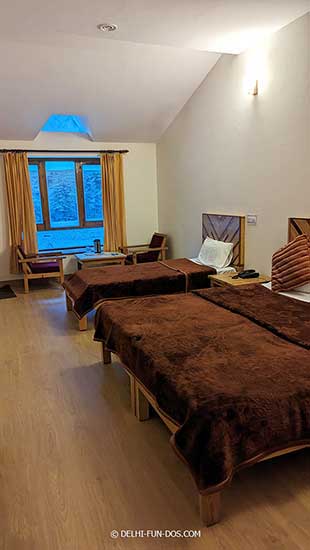 Prakriti serves vegetarian as well as Jain food on request. Given that Prakriti is very near Gangotri Temple and many pilgrims from all across the world stay here, a vegetarian kitchen is of the essence.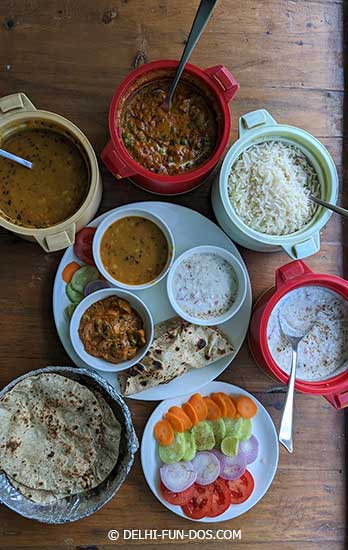 All the staff was very hospitable. The manager Mr. Negi was extremely cooperative and directed us very well about nearby attractions in Harsil and beyond. They had arranged a car with a very efficient driver – Mr Satyender who doubled up as a guide too. That was very helpful.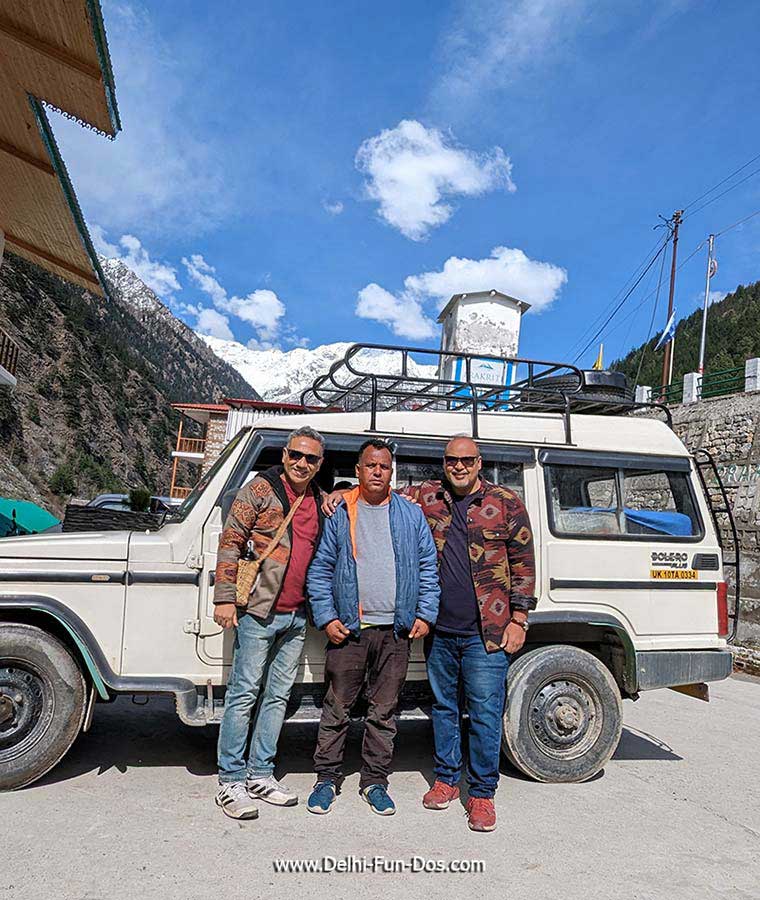 Prakriti Retreat is seasonal. They open up after the Holi festival in March and operate till Diwali in October or November. We had a great stay with all comforts in this rather difficult terrain of the world and look forward to returning with family and friends. Thanks Prakriti Team!
Important Driving Tips From Delhi to Harsil
Delhi to Harsil road conditions are mostly good. From Chamba, you must take the New Tehri Road. If you mistakenly land on Old Tehri Road, you may face severe road repair and bad road conditions from Chamba to Uttarkashi.
The 3 hours or so drive from Uttarkashi to Harsil is on steep mountain roads with sharp bends and busy traffic from April to October, the period for Char Dham Yatra. Risk it only if you are an expert (yes, expert) in mountain driving.
The last petrol pump before Harsil is at Ganeshpur about 70 km away. So make sure you are fuelling up to your tank's full capacity.
Other Places Near Harsil
If you are in this region and have some time, you could visit many other attractions:
Gangnani situated about 25 km before Harsil is well-known for its hot water springs.
Uttarkashi, the base town of Harsil is an old temple town. The Yamunotri trek starts from here.
Chamba, about 3 hours towards the plains from Uttarkashi is known for its natural beauty. The picturesque Tehri Dam is in this region.
Is It Worth Going to Harsil?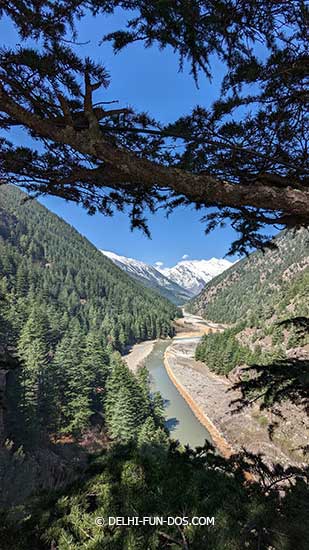 Harsil is the changed face of Indian villages that we so applaud! It is offbeat Uttarakhand at its best. Being a cantonment area, it is clean. The pine trees and apple blossoms; the mountains with their many streams; the Bhagirathi flowing on the side make you forget where you are. You could be here. You could be somewhere else. For a while, you don't care.
Harsil is the best spot if you are on a journey to Gangotri Temple. It is also a great place to zone out, meditate, read, write, paint, or have a honeymoon! So yes, Harsil is indeed worth a full trip.