The arty area of Kochi is Fort Kochi. Some of the best things to do in Kochi lie in the Fort Kochi area. There are century-old churches, a beach, and Chinese Fishing Nets area here where they let you cast the net too. Also, the very picturesque cafes are a must-visit.
On that note, Fort Kochi might look overwhelmingly pricey. Yet when we spent some time here, we realised some of the Fort Kochi restaurants were the most affordable. The pocket-friendly restaurants in Fort Kochi were neat, lively and no compromise on the dining experience. Here is where you can also head if you are visiting Fort Kochi and looking for delicious food.
Kashi Art Cafe, Fort Kochi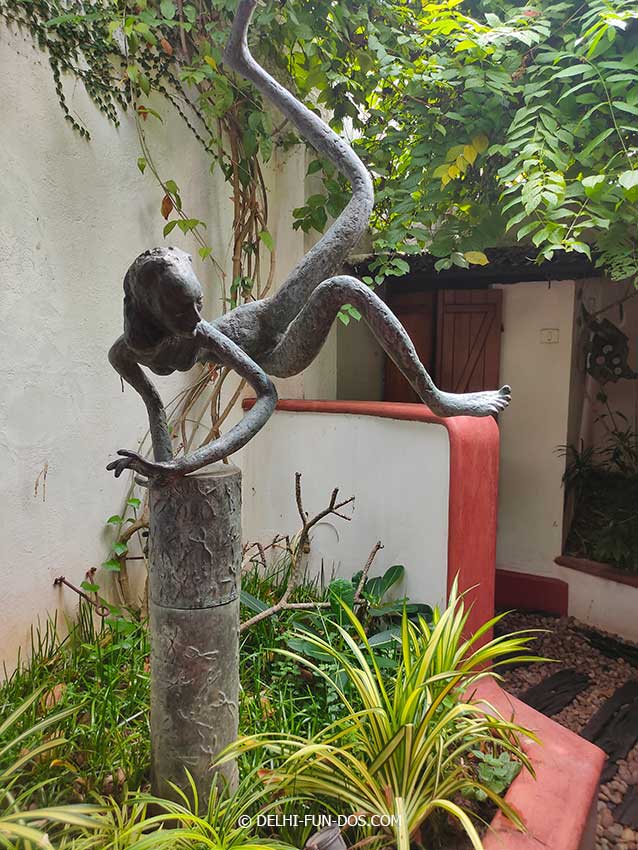 You must visit Kashi Art Cafe at Fort Kochi, and we really insist on this. It was an art gallery cum cafe and was partially alfresco. Paintings, photographs, and pieces of sculptures were scattered at various spots here. The cuisine was continental and more importantly, the food was good. The wall of Kashi Art Gallery carried beautiful wall paintings. In fact, we came here twice – for dinner and then breakfast the next morning.
Approximate cost for two – Rs 800/-
Kaasa Kitchen, Fort Kochi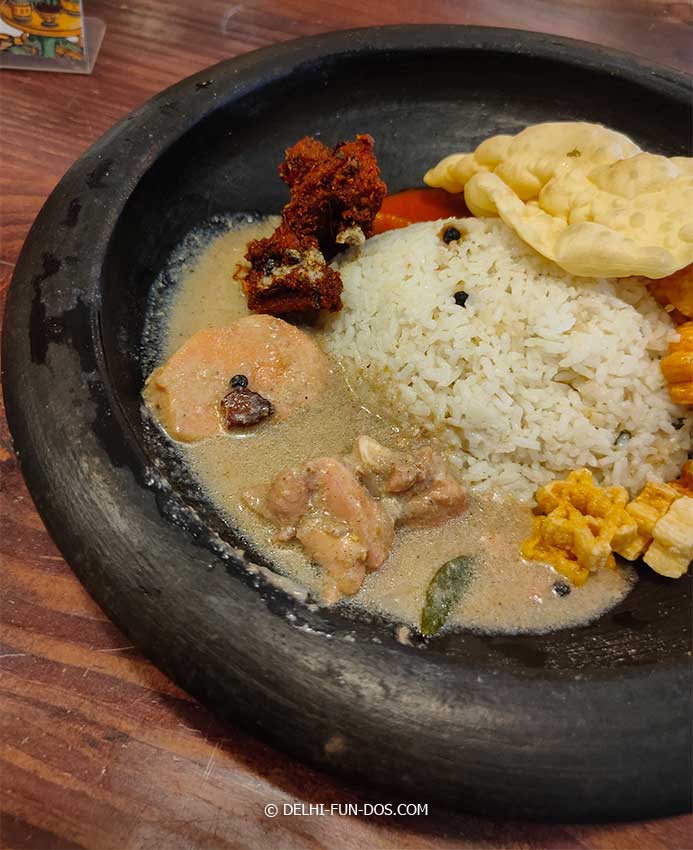 Kaasa Kitchen was in the next lane to the hostel in Fort Kochi, where we stayed. In fact, when we asked around for a good place for a local meal in Kochi, this was the first recommendation! It was prominently located and the ambiance was calming. We tried some dishes and loved the appam and the egg roast. The crockery they served the food in was probably black stone. The waiters would place a bowl or a plate and serve the food hot from a tiffin box. The whole effect was smart and lifted the quality of our experience.
Approximate cost for two – Rs 500/-
Teapot Cafe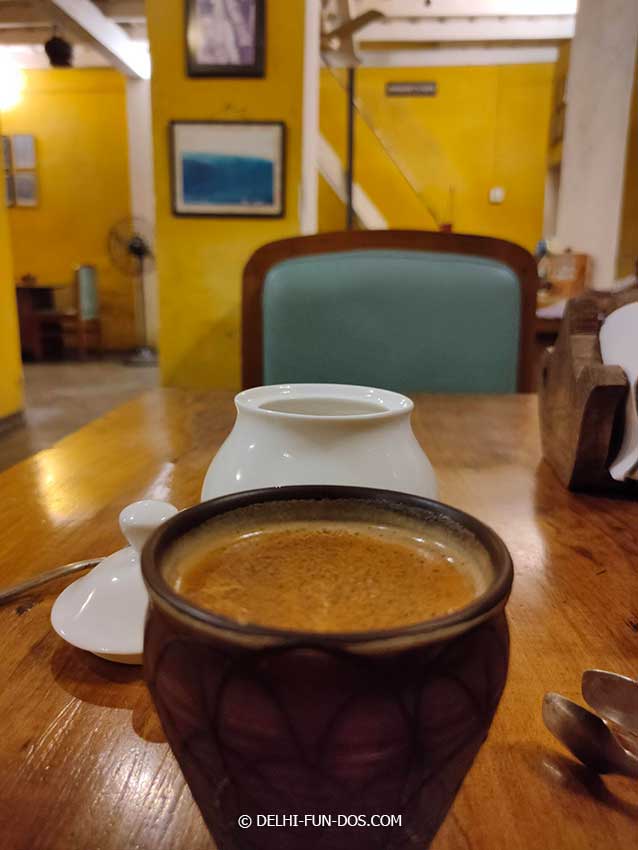 It was early evening, somewhat windy with light drizzle. We went to this colonial-looking place for the perfect cup of English tea. The bright yellow walls and the Chinese-style brass teapots created an exotic ambiance. We ordered masala tea with samosas for snacking. The samosas were freshly made but smaller in size and had a little different flavour than what we have in Delhi. It helped to remove the traveling fatigue that we had that morning. True to their name, they had an interesting collection of vintage Teapots and tea sets.
Approximate cost for two – Rs 400/-
Tibet Kitchen, Fort Kochi
We had a very long humid day and wanted to have something light for dinner. Looking for the best Chinese restaurants in Fort Kochi, we landed almost in front of Tibet Kitchen. It looked clean and inviting from the outside. The indoors had positive vibes with photographs of Dalai Lama hanging on the walls. They also had a souvenir shop on the side. We ordered a chop suey here. It was full of chicken and green vegetables. The taste was simple, nothing fancy and the serving size was enough for both of us. We highly recommend this restaurant for a fuss-free meal. Keep some extra time as the service is laidback.
Approximate cost for two – Rs 500/-
Fort Kochi beach seafood shacks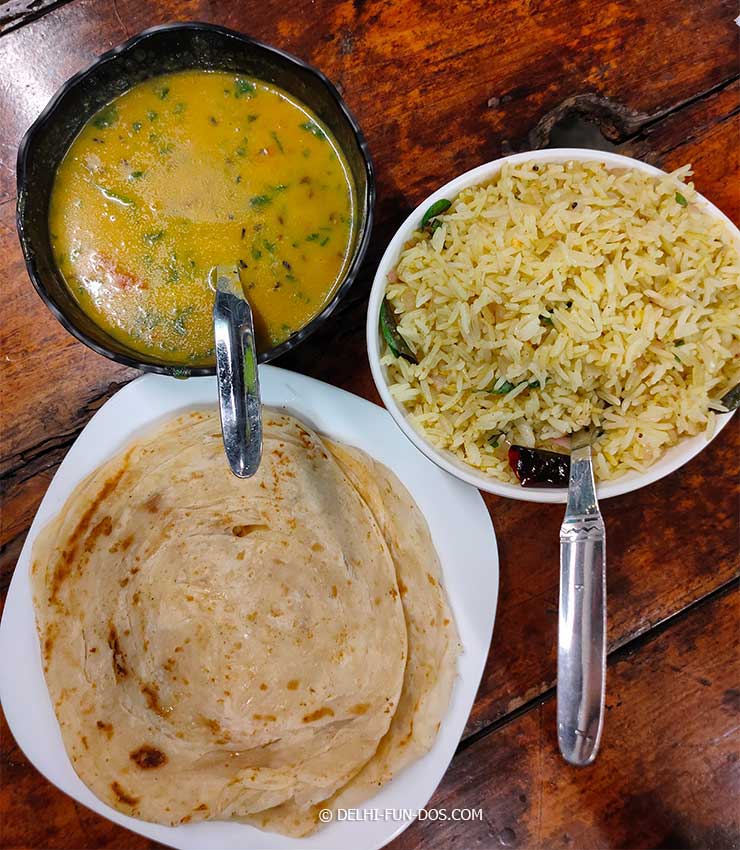 The cool shacks and restaurants beside the Cherai beach are mostly outdoor. You get to taste the best seafood in Kochi here. And not only fish, but they also serve a medley of dishes starting from pizzas to our staple daal roti. Done up with simple furniture and fairy lights you get a night picnic feel. This relaxing laidback experience is a perfect balance to the busy day you might have had while traveling in Kochi.
Approximate breakfast cost for two – Rs 500/-
Roadside tea stalls at Fort Kochi
PIN FOR LATER READ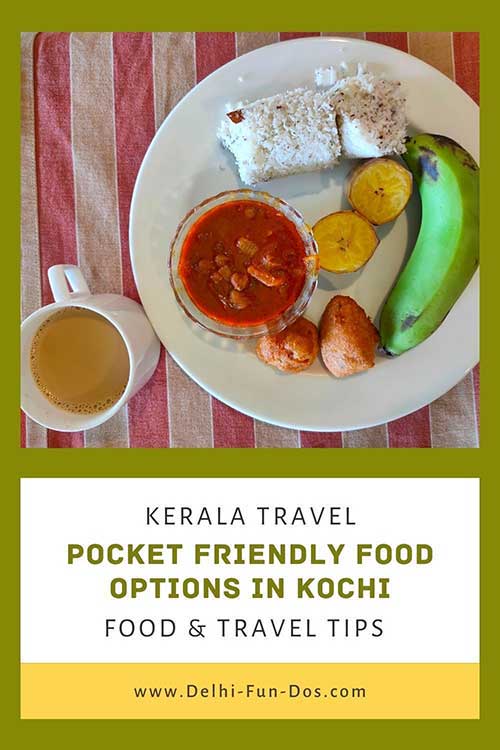 We are tea-lovers and were very excited to see the tea stalls in various nooks and corners. They used Nilgiri tea leaves and a lot of milk. The end product was a milky whitish tea, more like what the west calls Chai-latte. It was fun to have it, piping hot, even on a humid day. They also sold many varieties of cookies from local bakeries, eggs and bread omelets, and bananas. One can easily make breakfast at one of these tea stalls.
Approximate breakfast cost for two – Rs 150/-
PIN FOR LATER READ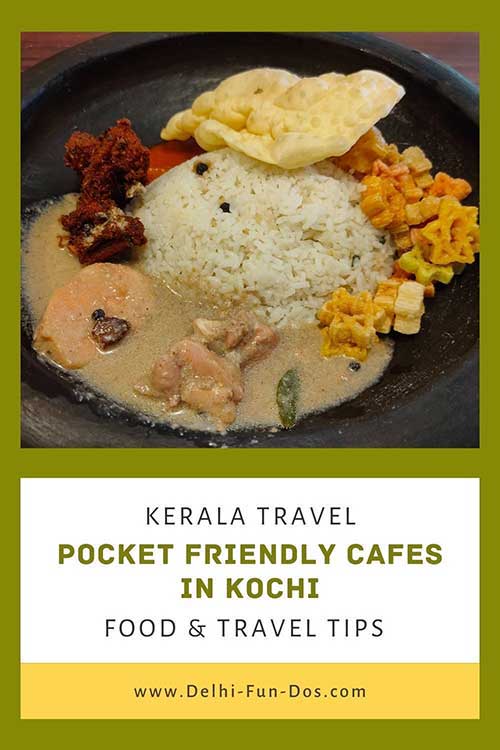 Yousuf Art Cafe at Jew Town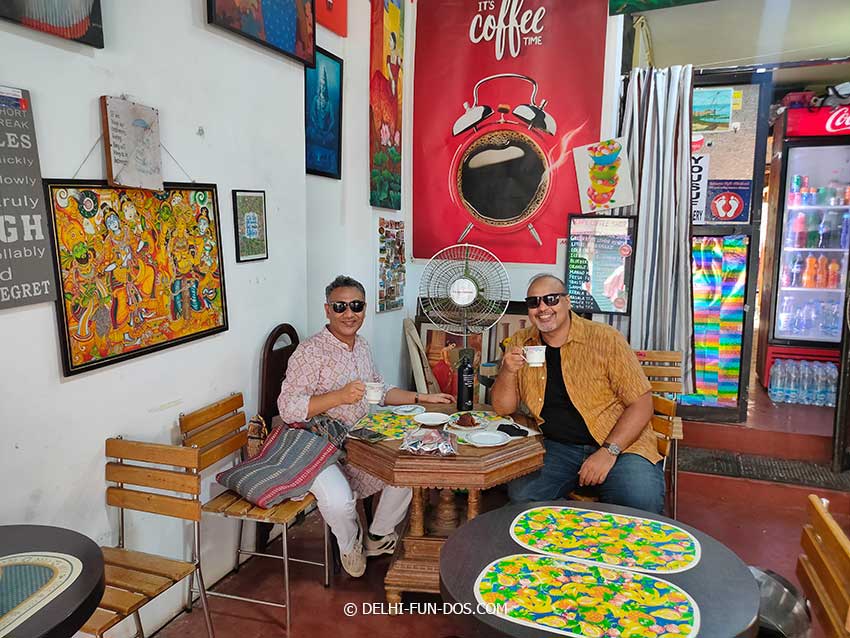 Jew Town in Mattancherry is very near Fort Kochi. We had breakfast here one morning. The open cafe has a lot of paintings and quaint antique-like furniture. All that drew us in and thank God for that. We had the best rich plum cake slice here. We reordered the cake, and still not satisfied, had a whole cake packed for Delhi. Yes, it was that good. We also had tea and chicken sandwiches which were standard too. The guys here are very friendly.
Approximate breakfast cost for two – Rs 300/-
Other food places in Kochi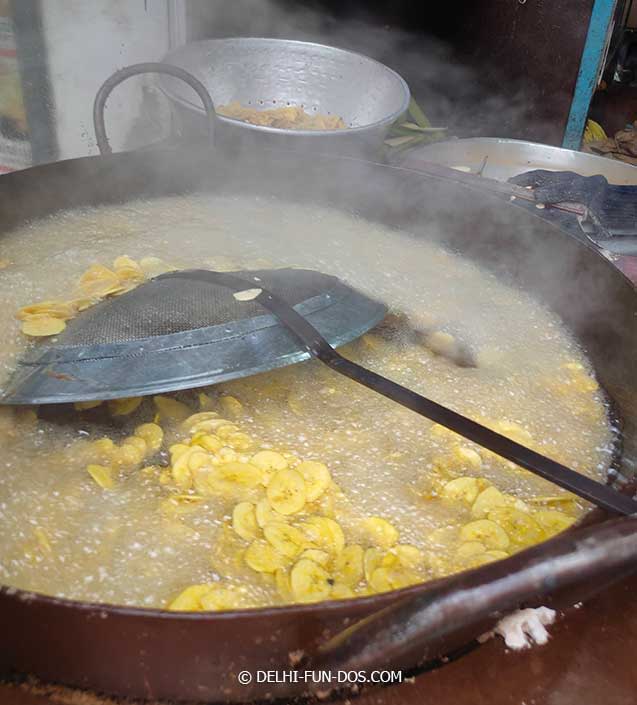 During your trip to Kochi, in all likelihood, you would also be visiting other areas like Marine Drive, Ernakulam, and so on. Do try the traditional Kerala meal Sadya in Kochi. Also freshly fried banana chips, banana fritter Pazham Pori, and Calicut halwa. Trust us, your trip would remain incomplete without this little food trip.
Some of the above food spots could be among the cheapest restaurants in Fort Kochi. Yet, we thoroughly enjoyed the experience. It gave us a real feel of the inclusive culture of Kochi. Do indulge in this food trip through Fort Kochi when you are here. You would thank us.
P.S. This post is in collaboration with Kerala Travel Mart or KTM 2022, a tourism event organised by Kerala Tourism Department and Incredible India.